Welcome to my little piece of the void!
Hey there! My name's Moodle, and this here is my own little piece of the limitless void which i've decided to make my home!! Feel free to look around, have some snacks (though you'll probably only find dark chocolate and blood bags in my fridge... ), and enjoy the scenery!
There's not much out here yet, but you can see my future plans for this space over in the About section! Thanks for stopping by :)
CHANGELOG
23/03/2023
Put the MelonLand Surf Club widget in my sidebar. My first webring! Wahoo!!!
Also added a music player full of video game midis to the sidebar, with some help from the MelonLand forum and midis from VGMusic.com :)
Small updates to the Fan Stuff Page!
Added more link buttons to the Other page!!! Hehehe
15/03/2023
Finished that sidebar I talked about last time!
Added a chatbox for the sidebar :)
slight improvements to mobile mode!
13/03/2023
It's just past midnight and I've been feeling too awful to work on art so I've just been coding... Here's what I've got for you this time!
Yesterday I refined my gallery layout a little more
At the same time I added a page of art for my story Turned Yesterday to the gallery! Now there's two pages of art in there!!!
Today I've been working on trying to add a sidebar to my layout so I have a little more room for things... It's not ready to be implemented yet but you can have a sneak peek on my test page here!
Also updated my graphics collection with some more sources!
10/03/2023
It's 5am and I just hyperfixated on finally making a semi-functional gallery page let's GOOO
Created semi-functional Art Gallery with a few featured bits of artwork
Linked Gallery in the Original Projects page and made some slight edits along the way
12/02/2023
I am SO BAD at keeping the changelog up to date so I can't remember all the small changes I've made since the last changelog entry, but I just did a more significant update so I can fill you all in on that!
Small aesthetic changes to the site as a whole
FINALLY Added both a list of links and graphics collection to the Other page!
Because I added a whole graphics collection to Other, I removed the small one I had on Fanstuff
Work in progress 'light mode' stylesheet! Check out the test page over here!
20/11/2022
small edit, just removing one of the site buttons cause i don't actually like how it turned out lmao
19/11/2022
Just some small cosmetic updates!
Finally got around to making the headers for the Fan Stuff and Other pages
Made myself some simple lil animated site buttons :)
Gave each page different buttons in the footer
Some of them go places! Have fun clicking around
Made my own subtle colour edit of the blood divider
13/11/2022
Updated the other page with the new layout!
Also removed all content from it for now
12/11/2022
I am once again up past my bedtime updating layouts, this time for my fanstuff page
Also changed this one quite a bit!
Only the Other page left to go...
11/11/2022
Added a test page to test out the new layout!
Updated home page with new layout!
About page is updated now too!!! Ahh!!!!!!
More layout updates to the other pages coming soon :)
It's now the next day (still the same date cause the above updates were after midnight) And a couple more updates!
Updated the projects page with the new layout and extra stuff!
Made myself a very quick little site button. It's basic for now but it exists!!
Site Buttons
You can link here with one of these buttons if you like!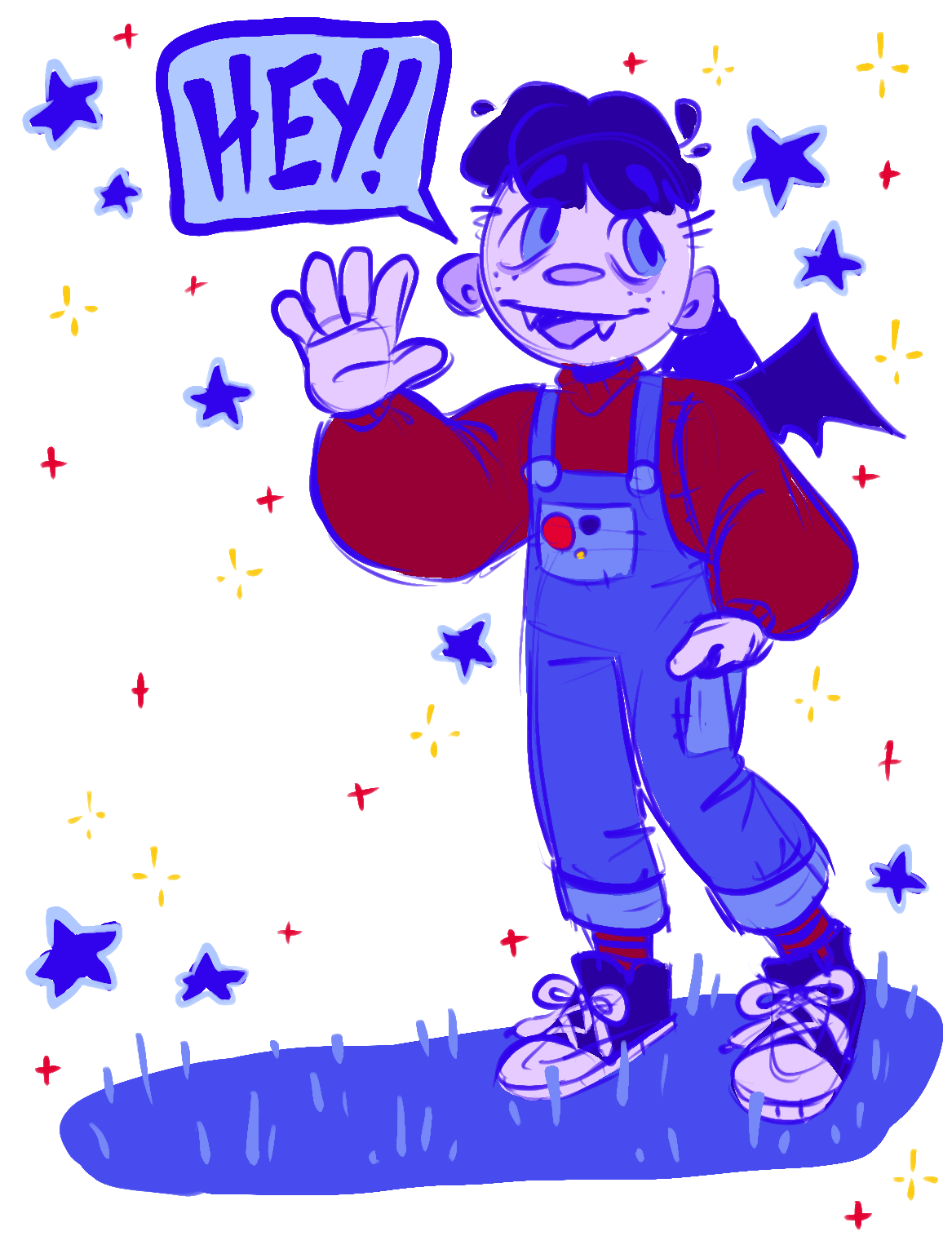 That's me! :)